The high inflation rate has affected food prices, and customers are hunting for bargains to keep up with the high cost of living. According to the Consumer Price Index, inflation for food at home rose to 11.4% year-to-year, making the increment the most significant uptick since 1979. With Save A Lot's grocery store business, building a thriving business using a time-tested model allows you to provide high-quality groceries at affordable prices to your customers.
With shoppers prioritizing affordability and leaning towards high-quality private label brands, owning a discount grocery store like Save A Lot is perfect for these economic times. Also, it brings value to the lives of the consumers you serve in your community. Here are additional details you should know about our Save A Lot licensing partner opportunities. 
Choosing the Right Location for Your Grocery Store Business
A grocery store license with Save A Lot means you can rely on us to provide strong real estate support throughout the process. As a licensing partner, we will work with you to find the right location to serve your target market. We are here to help you figure it out to achieve maximum efficiency and returns on your investment.
When choosing a location for your grocery store, here are some factors you should consider:
Is there a demand in the neighborhood?

Is it centrally located near your customer base?

Is it the right size?

What are the primary demographics in your region?

Will your location be easily accessible?

Does it have adequate parking?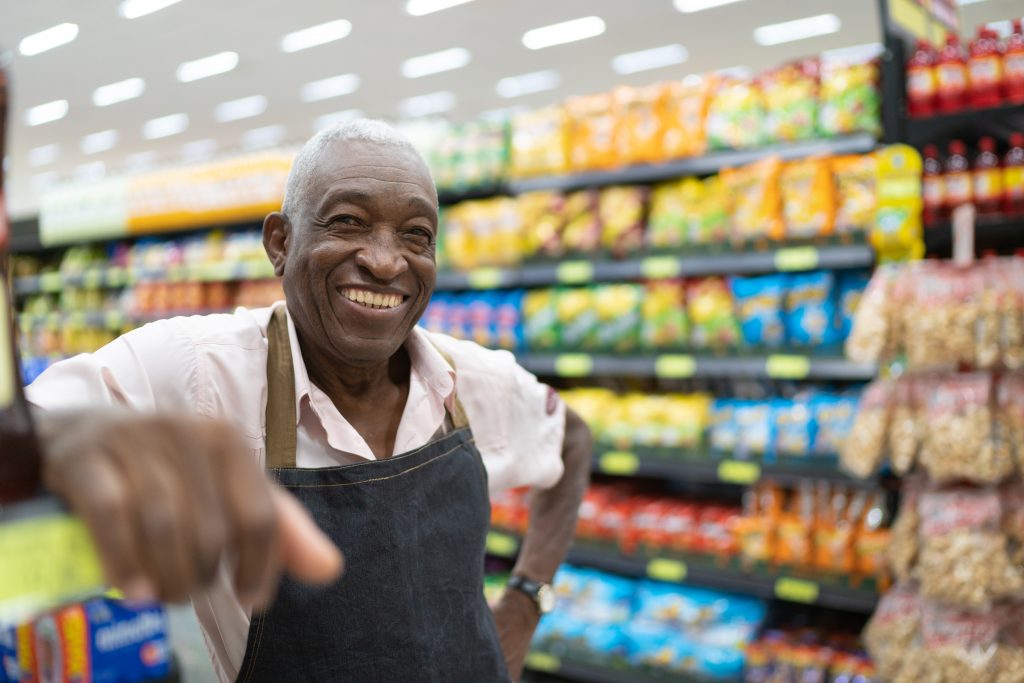 Difficult questions like these are readily answered because our professional team is available to assist you with all your real estate needs by providing expert knowledge, industry best practices around lease negotiations, and time and cost-saving tools. As our licensing partner, you will access our decades of experience and leverage our contacts to find the perfect location for your business. 
Our Private Brand Process
Our licensing opportunity's brand process includes packaging designs that create efficiency for the store while delivering a great customer experience. This means we offer: 
Easily identifiable products:

We ensure all brand logos are visible to employees when offloading pallets and customers for easy identification. 

Display ready cases:

Our products do not require additional tools to open. This makes it easier for employees to handle and for customers to open without disturbing contents.

Sufficient stock:

With access to 12 of our distribution centers, your store will always have enough inventory to quickly replace and replenish shelves as needed, making it easy for your customers to always get what they need.

Convenience:

Our shops are smaller compared to

traditional grocery retailers. With an average of 3,000

Stock Keeping Units (SKUs)

, our retail partners offer convenience to their customers as products are easy to find, reducing their shopping time.

Recyclable packaging:

Our packaging is not hard to break down,

making recycling easy. 
Smaller Footprint Stores
Not only does operate a smaller size store allow a more effortless shopping experience, but it also lowers overhead costs for our retail partners while giving customers value for high-quality products at a lower price. 
Our smaller footprint of 12,000 to 18,000 square feet enables Save A Lot retail partners to save money on costs. With the efficient use of space, retail partners pay lower upfront costs to build or remodel. They also benefit from lower rent, lighting, refrigeration maintenance efficiencies, and utility costs. 
Unlike other opportunities, Save A Lot's licensing program opportunity is designed to help retailer partners succeed in the grocery industry. This and more is what sets our grocery license opportunity apart from other retailers!
Contact the Save A Lot team today to learn more information about the grocery business and how you can become a Retail Partner.